Patricia Poon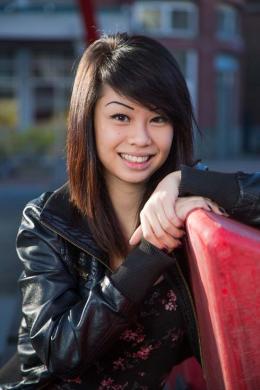 Age: 20
Ethnicity: Chinese (Cantonese)
Astrological Sign: Gemini
Studying: Finance and e-Business, English Minor
Last Fashion Purchase: Not sure…Does a Pokemon shirt count?
Name of Film Star I'd Love to Date: Emma Watson
Favorite Restaurant/Dish: Asian – Peaceful Restaurant; Western – Le Faux Bourgeois
Favorite Vancouver Attraction: Stanley Park and Aquarium!
Favorite Nightspot: Celebrities
Item I Can't Leave Home Without: Phone
Beauty Tip: Nap when you can (haha)
Gym, Spa or Sport? Sport? I love rollerblading!
Hobbies: Pokemon, travelling, kayaking, hiking
Achievements: Canada Wide Science Fair Regional Gold Medalist 2010; Becoming President of HKSA! Being asked to become a keynote speaker/ conduct workshops of events. (I've owned all the Pokemon games and consoles. Haha? Does that count?
Career Goal:  I want to work for a technology and management consulting firm that will send me around the world!